The Kobe Bussan Group has been promoting social contribution activities through food as one of its medium-term management plans. We are actively contributing to society by resolving a wide range of issues. As part of our activities, we enhance halal products, support children's cafeterias and single-parent families, and create a work environment that allows all employees, including women and foreigners, to work actively.
Handling of halal products

*As of January 2021
Halal food refers to food allowed to be eaten under the Islamic Law, which is made with ingredients and cooking methods determined by the law. The Kobe Bussan Group actively handles halal-certified products to ensure that more customers can enjoy their meals with peace of mind.
Since 2012, we have expanded the range of halal-certified products. We have received support from many customers for these initiatives and currently handle approximately 200 products. As a key issue of our medium-term management plans, we aim to strengthen our halal products further.
Supporting children's cafeterias and single-parent families
Many organizations are working for children and their families who will bear the future. Through continuous support for these essential social activities, we will contribute to revitalizing local communities and realizing healthy growth for children.
Supporting children's cafeterias and single-parent families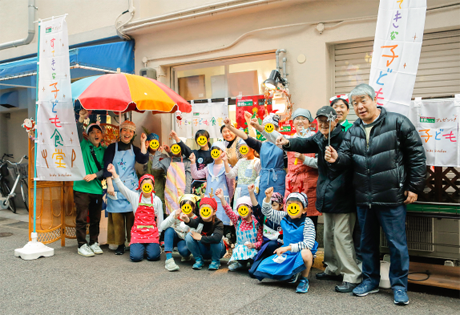 A children's cafeteria is a place where residents and the local government take the initiative in providing free or low-cost meals to children who eat alone or are unable to have enough food due to family reasons.
In 2018, the Kobe Bussan Group launched the "Fabulous Kodomo Shokudo (children's cafeteria) Presented by Gyomu Super," an activity to support children's cafeterias by providing food and having volunteer employees help with cooking.
We also continuously donate food to single-parent families through the "Children's Genki Network Hyogo," a project in which three private NPOs, including Food Bank Kansai, work together to support single-parent families.

Donating food to children's cafeterias in Japan
To support children's cafeterias continuing to support children, we have donated food to children's cafeterias across Japan since March 2020 through NPO National Children's Cafeteria Support Center Musubie, and the Hyogo Children's Cafeteria Network. We will continue our support for them.
Support to children's cafeterias in Japan
(excerpted from actual data in 2020)
Retort pouch rice
3,832 packs
Retort pouch curry
1,680 packs
Accompaniments for rice
(salmon flakes and minced chicken)
320 bottles in total
Breakfast cereal
6,000 packs
Salmon flakes
8,000 bottles
Masks for children
178,000 pieces
Retort pouch curry
18,000 packs
Pure fruit juice jerry
14,400 pieces
Commercial use furikake seasoning
200 bags
Holding food education event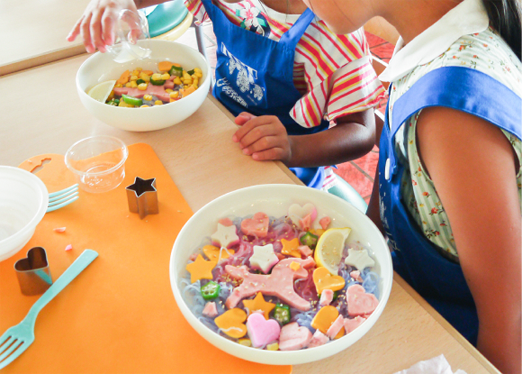 The Kobe Bussan Group has continued to hold the event since 2018 based on an idea that "food education, which is essential to sustaining life, is vitally important for the future of children."
Through "Gyomu Super Science Kitchen," a hands-on event comprising scientific experiments, we have communicated the enjoyment and importance of eating while encouraging children to become more interested in eating.
Providing supplies to areas hit by natural disasters across Japan
The Kobe Bussan Group also has collaborated with government agencies in supporting areas hit by natural and other disasters across Japan. In fact, the Group provided supports, including relief supplies and donation, to the areas hit by disasters such as the Great East Japan Earthquake, the Kumamoto Earthquake, and Typhoon Hagibis of 2019. We have continued to assist with their recovery by delivering daily supplies, although the forms of assistance vary according to situations of afflicted areas.
Co-sponsoring "COMING KOBE," a music festival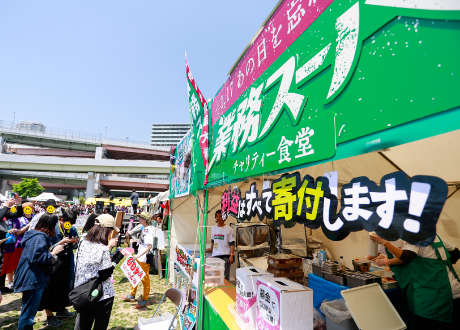 Since 2017, we have cosponsored "COMING KOBE," one of Japan's largest charity music events, which are themed primarily on supporting afflicted areas. In 2018, the Company opened a food booth in the venue and donated all proceeds from the operations of the booth to areas hit by disasters to ensure that we keep alive the memory of disasters as a company struck by the Great Hanshin-Awaji Earthquake and in gratitude for a great deal of support we received back then.
Improving employee satisfaction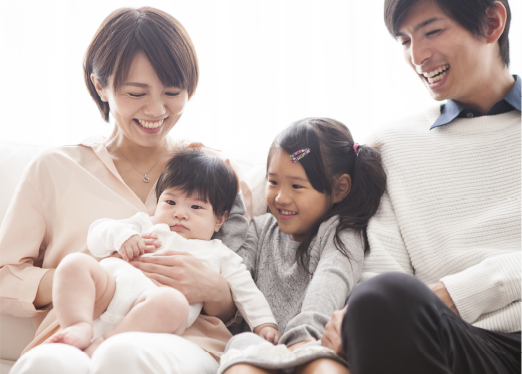 We have implemented a range of systems and support programs to improve employee satisfaction, help our employees balance work and private life, and provide them with opportunities to learn skills and grow. The Kobe Bussan Group aspires to build an environment that allows every one of its employees to work energetically while fulfilling their potential, based on the belief that employees are assets essential to its medium- to long-term development.
Support programs for balancing work and personal life

Programs related to
workstyle
Introduction of refreshment leave: Two separate three-day holidays a year
Introduction of life support leave: Additional five holidays a year aside from annual paid leave (the life support leave may be taken in units of days)
Reduction in overtime: Overtime work after 8:00 p.m. prohibited in principle
Promotion of paid leave: Employees urged to take at least 80% of paid holidays
Promotion of telework: Devices necessary for teleworking, including note PCs and web cameras, leased to employees
Support for employees taking qualifying exams: Examination fees paid to employees to assist them in getting qualified for their jobs
For securing talented personnel
We have focused on developing human resources to ensure that each employee is able to fulfill the potential of their own and grow in pace with the Company. In addition, we will strive to attract talented individuals by proactively disclosing information in our recruiting activities.