Eco Renewable Energy Business
Renewable Power
Generation Business
to contribute to eco-friendly
energy supply
We seek to expand our renewable power generation business to deliver safe and reliable energy that is environmentally sustainable.
Currently, we operate multiple solar power plants in several locations in Japan, and our woody biomass power plant is expected to be fully operational in the near future.
Solar Power Generation

As a new initiative, we launched a solar power generation business in November 2012 to contribute to reducing greenhouse gas (CO2) emissions and ensuring our future energy supply.
We have built remote monitoring systems into all solar power plants, enabling to minimize power generation loss caused by equipment failure and aging of solar cells that occur normally in solar power plants.

* This information is accurate as of October 2021.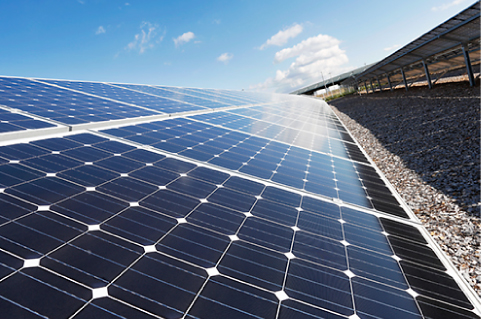 Annual Sales Revenue of Solar Power Plants
(in 100 Million Yen)
Woody Biomass Power Generation
We operate a woody biomass power plant in Shiranuka town in Hokkaido, Japan. The plant generates approximately 6.2 MW of electricity by burning wood chips produced from forest thinning as its primary fuel.
The CO2 emitted from burning organic wood chips is absorbed by the plant through photosynthesis in the process of its growth,creating a complete zero-waste energy solution. Through this business activity, we aim to not only create regional employment opportunities, but also revitalize the forestry industry and secure a stable supply of energy resources.